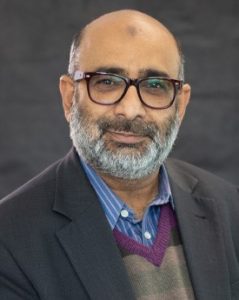 Ihtesham is a Professor of Bioengineering at Lancaster University and has authored over 217 scientific articles, has four patents to his name and an h-index of 40 (Google Scholar), with 7320 citations (4525 since 2014).
Ihtesham has a diverse research career that spans over thirty years and has led strong teams in research, teaching and management. Furthermore, he has delivered over 100 plenary and keynote lectures in the fields of biomaterials/bioengineering. In addition to authoring a number of book chapters, he has also authored a book entitled, "Vibrational Spectroscopy for Tissue Analysis, Series in Medical Physics and Biomedical Engineering, CRC Press; A Taylor and Francis Book, ISBN 978-1-439-3608-8, October 2012
Ihtesham's research comprises five interdisciplinary themes:
Biospectroscopy: chemical-structural evaluations of biological molecules, cells (cancer cells and stem cells) and proteins by spectroscopic means
Dental Materials: materials for restoration and oral and maxillofacial surgery for treating various diseases, injuries and defects in the head, neck, face, jaws and the hard and soft tissues, surface modification of polymers for the design and development of functional biomaterials, bioactive Functionalised Guided Tissue Regenerative (GTR) Membranes for Periodontal Treatments and bioactive ceramics and glasses including glass ionomers.
Bone regeneration: creating bioactive functionalised materials with improved chemical, mechanical and biological properties to encourage angiogenesis
Antimicrobial resistance research (Biofilms): understanding the chemical pathways of biofilm formation and their contribution to antimicrobial resistance (AMR) development, using vibrational spectroscopy to study microbial interactions with blood, tissues and/or surfaces "combatting microbial resistance".
Skin: understanding burns and chronic wounds with the use of 3D in vitro models as well as the employment of spectroscopy
He has a strong international research profile, holding visiting professorships at three international universities, as well as serving as the Executive Director and Founder of the Interdisciplinary Research Centre in Biomedical Materials (IRCBM) Lahore in Pakistan. The IRCBM was set-up in 2008 as a standalone research centre with a multi-disciplinary approach to Biomaterials Science and Engineering. The Centre works beyond subject boundaries with the aim of translating fundamental research to clinical care.
Ihtesham is also co-chairman and a founding member of the UK-Pakistan Science and Innovation Global Network (UPSIGN), which aims to improve "Communication, Coordination and Cooperation" between Pakistan and UK institutions.
He is a co-editor and editor for Europe for Applied Spectroscopy Reviews and a guest editor for the International Journal of Molecular Sciences.